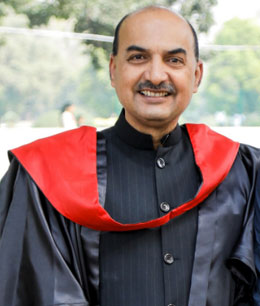 Lt. Col Avinash Singh (Veteran)

Principal

Contact:

Phone: (91)+7714701051
Email: principalrkc.ryp@yahoo.com
Principal,
Rajkumar College
Lt. Col Avinash Singh (Veteran)
Principal
Rajkumar College, Raipur (Established in 1882 at Jabalpur and functioning at Raipur since 1894), is one of the oldest Public School of the Country, which celebrated its Centenary way back in 1982 and thus has completed 138 year of its existence. Rajkumar College has played host to a number of eminent personalities such as the Father of Nation, Mahatma M.K. Gandhi, Dr. Rajendra Prasad, Pt. Jawahar Lal Nehru, Shri Lal Bahadur Shastri, Smt. Sonia Gandhi and Shri J.B. Patnaik who have graced Rajkumar College over the Years. Rajkumar College, Raipur is an Institution where excellence is a tradition, and we believe that each student is special and has the potential to excel in different spheres. The founding fathers of the College rightly chose the College motto as "Swadeshe Pujyate Raja, Vidwan Sarvatra Pujyate" meaning "A Raja is honoured in his own country, a learned man throughout the world".

The College provides quality education in all streams, Science, Commerce and Humanities and is affiliated to the Council for Indian School Certificate Examinations, New Delhi. We have an extremely qualified competent and experienced Faculty and as a result we have achieved 100% results both in ICSE(Class X) and ISC(Class XII) year after year. The College has, an excellent infrastructure, updated teaching laboratories, large number of well maintained playfields and ample facilities for students in the hostels as well as classrooms. We give emphasis to curriculum and extra curriculum as both are the soul of the academic structure of the school, to move ahead on desired lines and priorities. This is the way to understand the true potential of every child and accordingly direct their energy in the positive direction. No better place than Rajkumar College, Raipur for the formative years of your child.
Established in the year 1882, today Rajkumar College, Raipur has gradually grown from strength to strength in terms of infrastructure, academic results, sports and curricular activities to become one of the leading and oldest Public Schools of the country.
Salient Aspects Of
Rajkumar College